Redefining the iDonate experience.
The Short Version
In the new version of iDonate, the Campaign takes center stage.
As opposed to the classic Campaign, which was only one variable in the overall fundraising effort, the new Campaign contains all available Giving Channels:
P2P Campaigns
Text-to-Give
This allows for a more organized experience for organizations with multiple fundraising efforts.
Instead of having to navigate through separate areas of the platform to connect the various components of an initiative, now, everything you need is located under the same tent: The Campaign.
Creating a New Campaign
Creating a new Campaign can be done in a few simple steps. Once these are completed, you will have an active channel between your organization and its potential donors.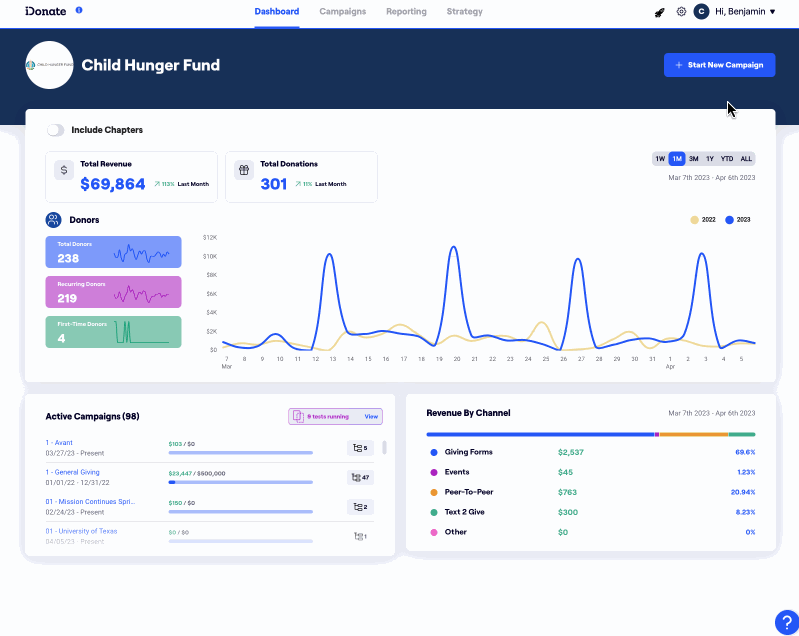 To create a new Campaign, follow these steps:
From the Dashboard or Campaigns section, select Start New Campaign.
Enter the relevant information for your campaign:

Name
Goal (Dollar Amount)
Timeframe
Designations Involved

Add a Giving Channel (in this case, a Giving Form).


Name the Giving Form.
Select a Template to use for your Giving Form.
Make necessary edits using the Giving Form Builder.
Select a Designation.
Select Publish.
You can now start raising funds for your campaign.