Finally, The Digital Fundraising System You've Been Waiting For!

Explore the POWER & SIMPLICITY of our newly updated online giving platform & never-before-seen built-in optimization tools!
Simplify + Optimize + Amplify
Welcome to the future of digital fundraising.
Simplify Digital Fundraising
The digital world is constantly shifting and changing around us. Technology is moving at a break-neck speed and sometimes it can feel overwhelming to keep up. Did you know?
Fundraising organizations that are early adopters of digital fundraising technology are 3x more likely to exceed their goals! (while those who don't are 2x more likely to fail to even meet their yearly fundraising goals)

Only 20% of nonprofits believe their current technology is good enough to meet their future fundraising needs.

50% of organizations have multiple fundraising tools that do the same functions.

Only 36% of nonprofits completely trust their fundraising technology guarantees a secure donor connection.
iDonate's newly updated digital fundraising platform provides an suite of digital giving apps with an upgraded management environment that streamlines launching multi-channel fundraising campaigns, a template library of best practice forms and landing pages that improve conversion rates, an Integration Exchange (iX) for data connection (from CRM, marketing automation, and data intelligence systems), and a robust set of new 'Donor-First Optimizers' that provide advanced capabilities to guarantee 2x fundraising growth rates in digital giving.
It's time to simplify your digital fundraising efforts and provide your donors with the online giving experience they expect and deserve! Register now >>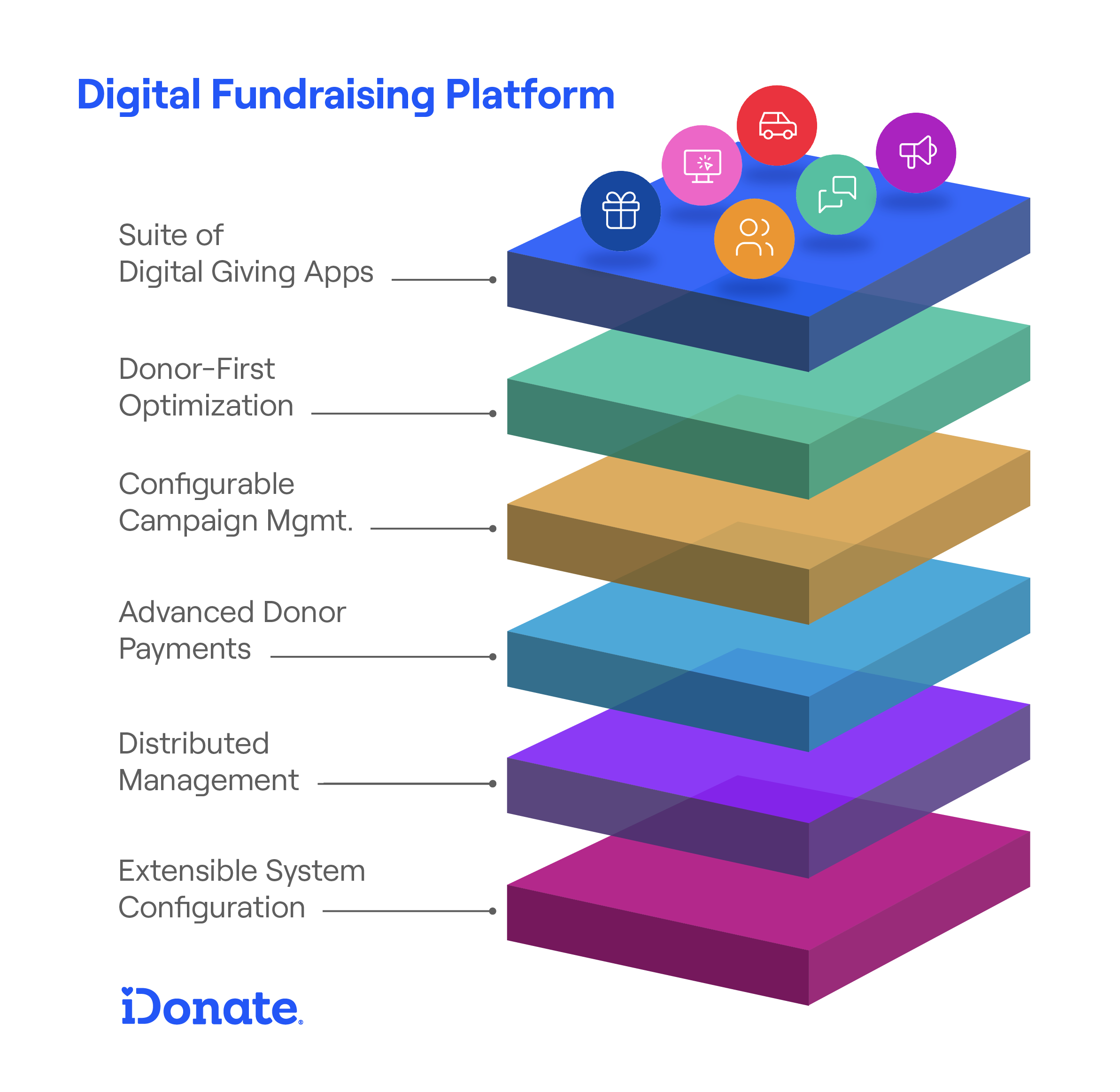 Donor-First Optimization
iDonate puts the power of optimization into the hands of the front-line fundraiser. Our easy-to-use interface allows you to configure and enhance all aspects of the donor form and landing page with our simple drag-and-drop editor. Customizing a powerful donation form and landing page has never been faster and easier!
We've built in a robust set of Donor-First Optimizers:

Point & Click A/B Testing
Pre-optimized Template Library
Personalized Gift Array Labels
Parent/Child Org Alignment

Recurring Gift Prompt
Corporate Gift Matching
Giving Impact Equation
Contextual Giving and more!
Never before have fundraisers had the ability to deploy, test, enhance, personalize, and amplify their fundraising efforts all on their own with just a few clicks of a button! What used to take an agency, dedicated IT & marketing support staff, and a whole lot of time has now been streamlined and simplified down into a single advance platform with donor-first optimization strategies built right in!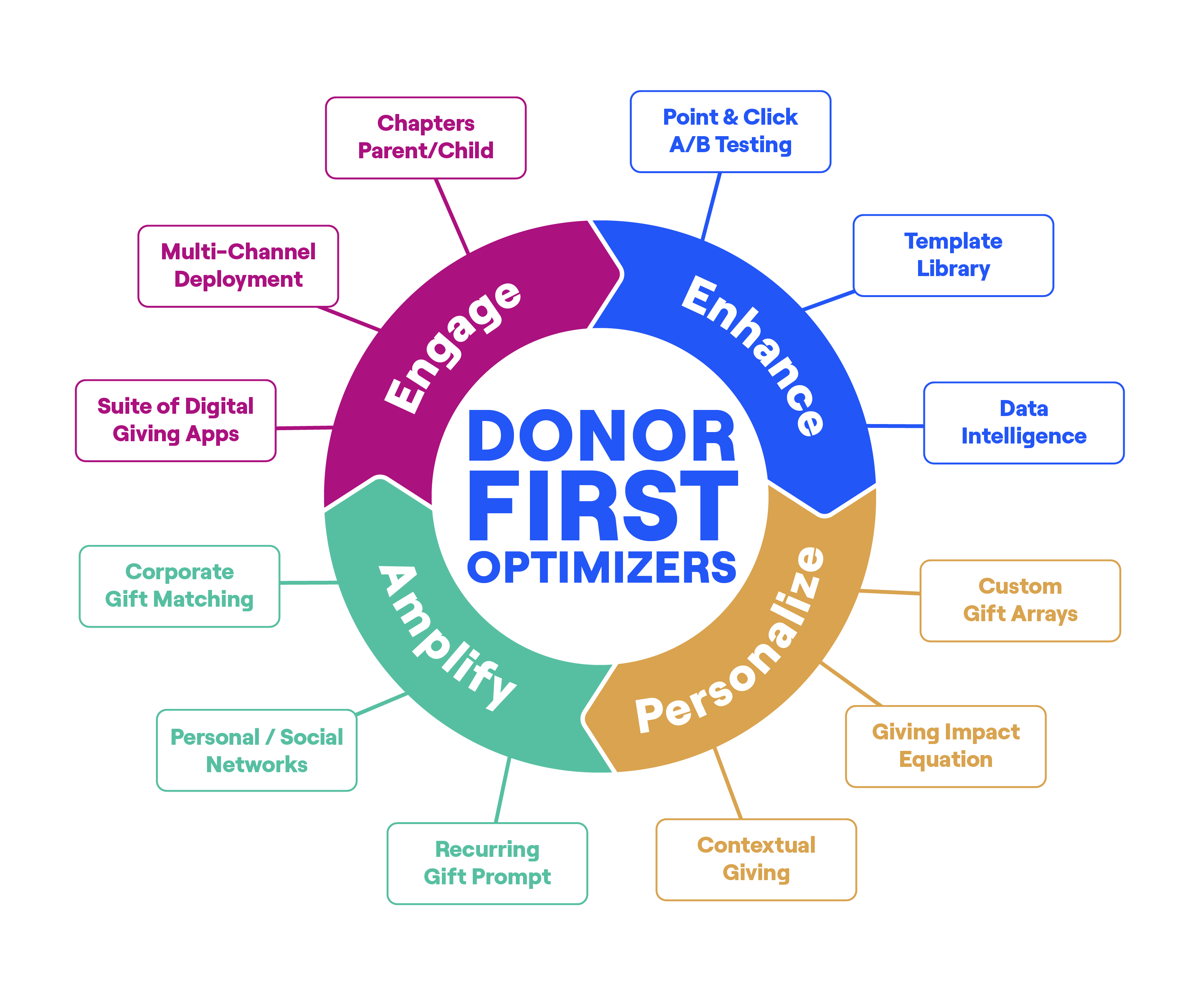 Amplify with the iDonate Way
Once you have our digital fundraising platform in-hand, with our robust donor-first optimizers at your fingertips, it's time to amplify your efforts with our optimization coaching and support services.
iDonate provides an unrivaled set of training programs and support services to help simplify the complexities of digital fundraising, optimize your efforts for success, and amplify your growth! (we even guarantee it!)
12-Month Optimization Program (powered by NextAfter)
Dedicated Customer Success Account Managers & Optimization Coaches
Unmatched Platform Implementation Training & Support
New Customer Onboarding & Training
Full Technical Support Team
Whether you're just starting to build out your digital fundraising programs and strategies or a seasoned online giving pro, our unmatched customer care team will help your optimize and amplify your fundraising efforts for success!