Adding tickets to an event adds an additional fundraising avenue.
Create New Ticket
| | |
| --- | --- |
| When you reach the Tickets page while configuring the event, select Create New at the top right of the interface. | |
Configuring the Ticket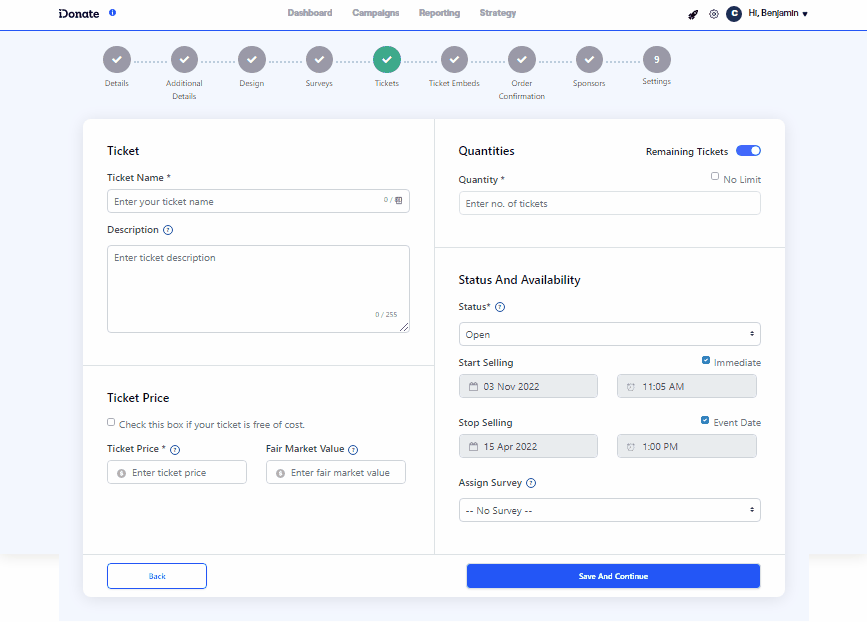 Tickets can be tailored to the needs of the event using the interface pictured here.
Ticket

Ticket Name – Set a name for the ticket. Different tiers of tickets can help drive sales.
Description – Describe the benefits of purchasing the ticket.

Ticket Price

Ticket Price – Set the price for tickets if they are not free of charge.
Fair Market Value – Alternative payment methods, e.g. a meal of equal value. This section is optional.

Quantities

Quantity – Set the total amount of tickets to sell. If there is no limit, select No Limit.

Status and Availability

Status – Select the ticket status: open, closed, or hidden. Open tickets can be purchased on the event page. Closed tickets can no longer be purchased. Hidden tickets are still open, but not shown on the event page.
Start Selling – The date to begin selling tickets.
Stop Selling – The date to stop selling tickets.
Assign Survey – If you want to include a survey with the ticket purchase, you can do so here.