Donor-first Fundraising Optimized for Your Development Team
We've built our donor-first fundraising platform to meet the needs of your fundraisers so you can grow digital donations more easily and do more good!
All the essential giving apps you need!
So donors can give how, when, & where they want.

Giving Form
A fully customizable and easily embeddable giving form that handles all giving transactions like credit card, e-check, PayPal, corporate gift matching, and non-cash donations.

Peer-to-Peer
A personal and customizable donation page that supporters can freely share with friends, family, and other potential donors to reach their own donation goal for any campaign.

Landing Page
iDonate allows you to configure and test entire donation landing pages with a giving form included, or just choose one of our pre-optimized landing page templates and tweak from there.

Text-to-Give
Allows donors to easily text donations through their mobile phone for any campaign via custom keywords. Combine T2G with our Events Pages tool & giving on the go has never been easier!

Events
Create event pages and handle ticket information, registration forms, and donation processing all in one place. Enjoy automated confirmation emails with your branding and custom wording.

Non-Cash
Process physical items that hold high value like cars, boats, and designer watches – even stocks and cryptocurrency – for an additional source of fundraising for your nonprofit.
Configurable and Embeddable Giving Forms & Landing Pages

Our simple WYSIWYG form and landing page editor allows you to update and customize your giving forms and fundraising pages with ease to meet your donor's unique needs and preferences.
Configure your donation forms and fundraising pages with your nonprofit's specific branding guidelines to provide a consistent and trusted fundraising experience.
It's your form... Built it the way you want.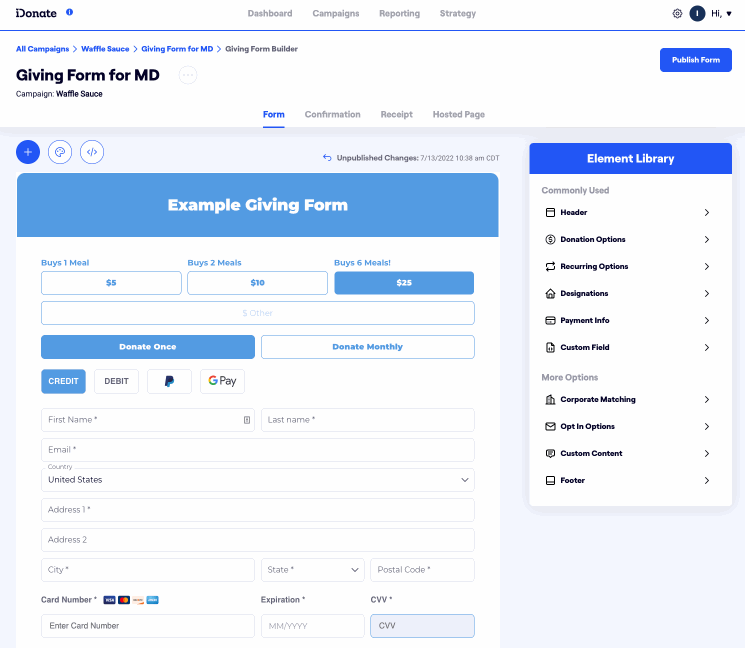 A:B Testing & Fundraising Campaign Optimization

The best digital fundraisers are constantly optimizing and tweaking. Even if something looks and works great, it can always be optimized to perform a little better.
iDonate's in-app A/B testing feature gives your digital fundraising team the ability to not only design and deploy custom giving forms and donation pages, but also test two versions against one another to see which one performs best.
Have a winner? Simply choose the one with better metrics, and with one click that version is now live for you to receive the most fundraising dollars. Then on to the next test...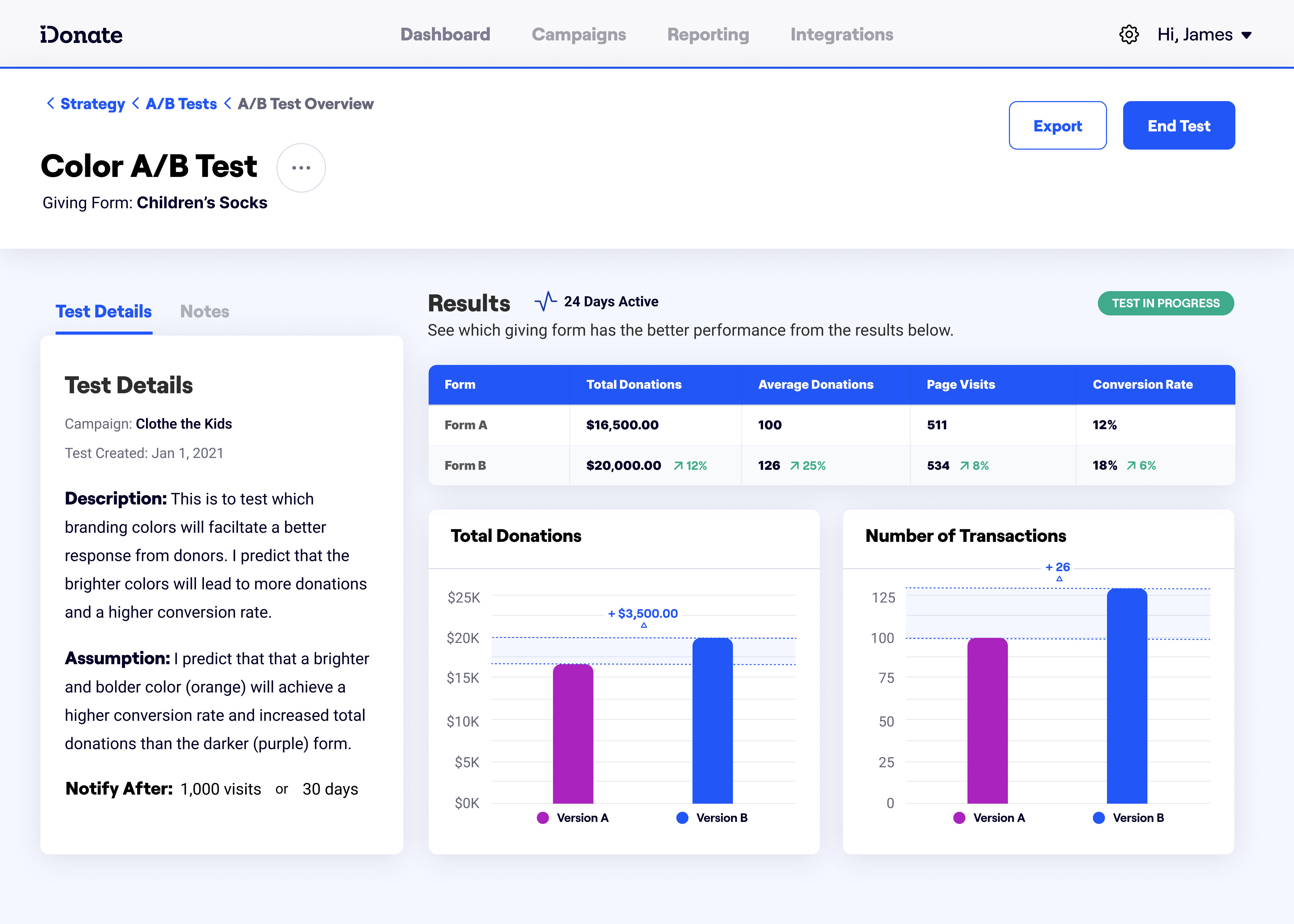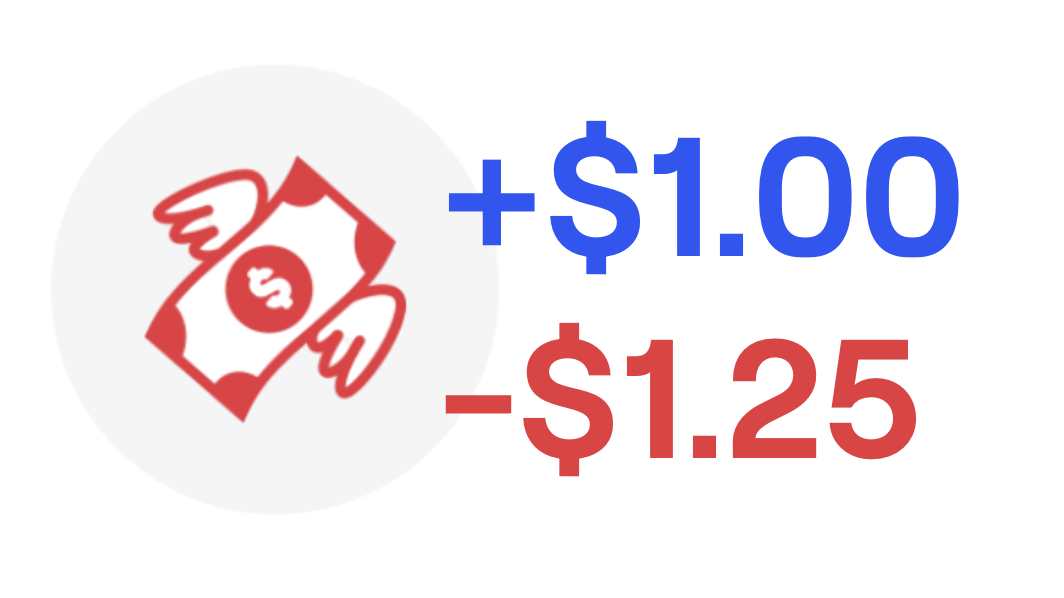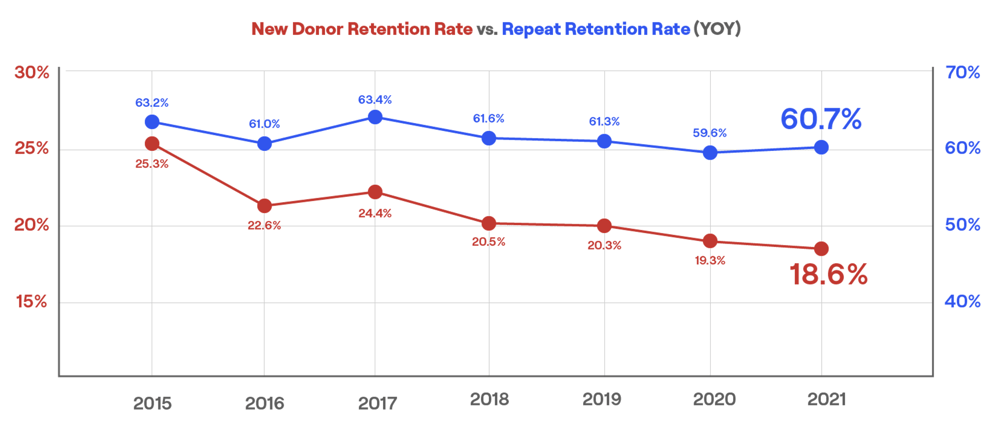 Automate Your Recurring Donor Support
Today's nonprofits are still struggling to provide Donor-First experiences which lead to long-term, recurring support. As you know, the cost of acquiring $1 of new donor giving, costs $1.25 on average; which means, without a 2nd gift, there's a negative ROI.
Unfortunately, only 18.6% of first-time donors ever give a second gift. That's what makes iDonate's proprietary Recurring Gift Prompt so impactful to your nonprofit's long-term success.
With just a few simple clicks, you are able to start prompting donors, at the optimal moment in the donations process, to give a recurring donation and ensure your nonprofit secures that 2nd gift right from the get-go! See how modern technology like this helps iDonate customers to grow 2x the industry average each year, guaranteed!