Reach and Rescue: Working to End Human Trafficking
How do you get people to care about a cause they can't see?
Human and child trafficking has existed for centuries. The first laws against slavery and trafficking were enacted in the early 1800s. Further international treaties were signed in the 1900s. The modern-day definition and criminality of trafficking was created in 2000 by the United Nations. But even as ratifications against trafficking grow in number over time, the act continues to exist, and has evolved into an underground crime that goes largely undetected.
According to the United Nations Office on Drugs and Crime in their 2020 Global Report on Trafficking in Persons, cases of human trafficking were reported in 148 countries in 2018. It happens in many different industries — notably agriculture, dining, and entertainment. Sexual exploitation remains the most common form of trafficking, accounting for 50% of detected cases, but forced labor has risen from 18% to 38% of cases since 2006. The ages of the victims vary, but one in three of victims is a child under the age of 18.
The numbers may be alarming, but they only strengthen the resolve of organizations like ZOE International, who see every single adult and child caught in trafficking as another chance at a new life. Their mission, as they stated on their website, is to "Reach Every Person, Rescue Every Child." Using their growing online and digital giving presence, ZOE International continues to make strides in their fight to end human and child trafficking.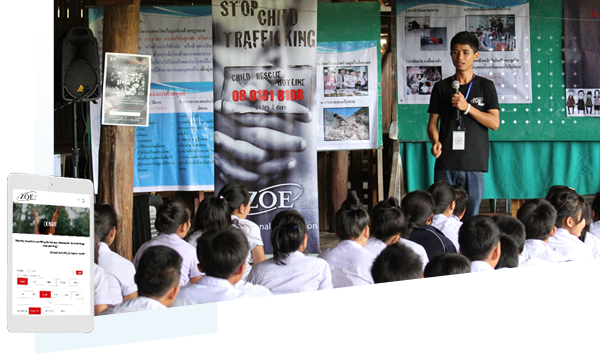 Spreading Awareness with Digital
Michael and Carol Hart founded ZOE in 2002 to continue their commitment to share the Gospel and rescue children from human trafficking. They set up headquarters in Santa Clarita, California as their organizational home, then moved to Thailand, where they saw the greatest need for help.
Since then, the Harts have helped grow ZOE's influence throughout Southeast Asia while creating and expanding locations in Australia, Mexico, Japan, and the U.S.
The scope of ZOE's work is truly international. Tackling a problem like human trafficking takes countless hours of work through constant education and consistent messaging. Doing so on a worldwide scale sounds challenging, but this is where they meet the problem head on.
"We really feel as though awareness is an important piece for combating human trafficking," ZOE Donor Relations Manager Karen Miyamoto said. "In the past, people associated human trafficking to something that happens only in third world countries. Unfortunately, there isn't a single continent that is untouched by trafficking. Using social media is a quick way to spread awareness to the masses."
ZOE's social media presence has become a key factor in delivering their messaging across the U.S. and the world — nearly 30% of their online engagement has been through social media. Through other channels like Google Ads and direct website traffic, ZOE is working to keep the donors coming back. They have made recurring giving an integral part of their fundraising efforts.
With a simple addition to their iDonate online giving form, ZOE has seen a 20% increase in recurring revenue since the fall of 2020. Likewise, the number of active recurring schedules and the number of donors who give on a recurring schedule have both increased by 18%.
To sustain those numbers, ZOE looks to what they call their "future donors." Forty-five percent of ZOE's online traffic comprises users between the ages of 18-35. ZOE targets the college-aged and young adults with a consistent, engaging, and powerful message — one that can be easily shared across all of their international locations.
"People from all over the word are visiting our social media sites wanting to participate in ZOE's global efforts," Miyamoto said. "Every time one of our ZOE countries posts on their social media sites, our USA office will repost that content on our main ZOE International page, hoping to boost their visibility."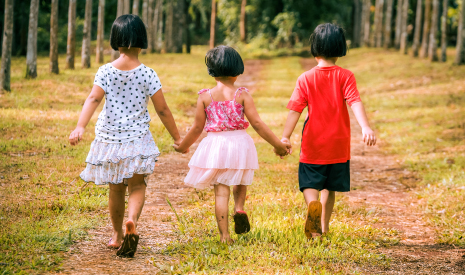 Education Through Events
ZOE has seen great success in having users engage with their content and ultimately spread the word about trafficking. But how does ZOE turn that engagement into real funding for their missions?
Like with many nonprofits, ZOE's donors want to hear stories of lives being changed. The actual work is one thing, but sharing how that work is being used for the betterment of others is a major focus of ZOE's messaging.
"When we go to events and conferences, we share our three-prong approach in combating trafficking which is prevention, rescue, and restoration," Miyamoto said. "An area that ZOE thrives in is restoration. Once a trafficked child or an orphan at risk of being trafficked is brought into our care, they begin their amazing journey of healing with the support of our staff. Children that once lost all hope now have a future and can dream thanks to the many that support our ministry!"
Even as ZOE spreads awareness and stories digitally, they are still active in their local communities, hosting events throughout the year. One such event is their annual Giving Tree campaign, when anyone from around the country can display a Christmas tree in their church or office and decorate it with tags — continuing the education on trafficking while providing direct donation options.
Cycling has also become a staple activity for ZOE events. They've been able to use that for continued awareness, and even for some first-place success.
In June 2021, ZOE entered into the Race Across America, a nonstop, 3,000-mile transcontinental relay race from California to Maryland. ZOE's eight-person cycling team, with help from 12 crew members, finished in first place in six days and 27 minutes, four hours ahead of the second-place finisher.
Adding to that achievement was the amount raised for ZOE's overall mission. In total, ZOE raised over $350,000, 90% of which came through the online giving page built through iDonate.
"While visiting the home for children who have been trafficked at ZOE Thailand, I was inspired by the children's fight – fighting to get their life back," ZOE Eastern USA Regional Director Brad Ortenzi said, via gozoe.org. "Competing in the Race Across America allows ZOE to take this fight against child sex trafficking across the United States."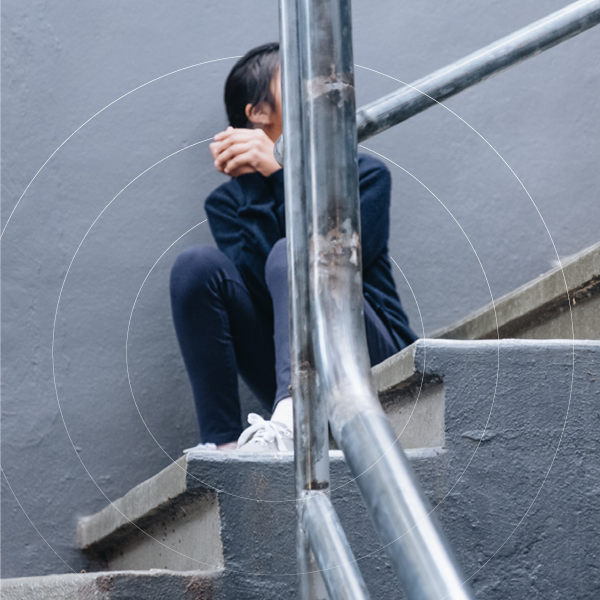 Restoration and Prevention
The organizational name, ZOE, was not chosen at random. It is a Greek name meaning "life." This significance encompasses the end goal for all of ZOE's efforts – giving a new life to the children they rescue.
As part of their restoration program, ZOE provides academics, activities, vocational and life-skills training, all under the roof of their secure rescue centers in Thailand and Los Angeles. All of that work is designed to equip the children for life and work outside the facility once they feel ready.
Embedded in the program and their digital messaging is their Christian faith and belief. They use those teachings to express the values of love and support to the children, utilizing a holistic approach with constant care and counseling services.
As they restore the children to a new life, ZOE also strives to protect the children from further trafficking and exploitation, working to root out the problem where it begins. Discipleship and worldwide mission trips are important to ZOE's mission, serving to not only educate people on how to identify and eliminate trafficking, but to also share the Gospel with many who haven't been reached before.
"In order for child trafficking to end, there needs to be a radical change in culture," ZOE Marketing Manager Tracy Cook said. "As individuals are transformed by their thought process or morality and who God is and how we are supposed to behave as individuals, that cultural change will happen as a result of more people learning about Jesus."