Take control of your giving experience.
Powerful tools to give your donors the giving experience they deserve.
Easily create unique online giving experiences that reflect what today's donors expect: simplicity, ease, and personalization. With a mobile-first design, personalized content, and donation management, empower your donors to give how, when, and where they want in seconds.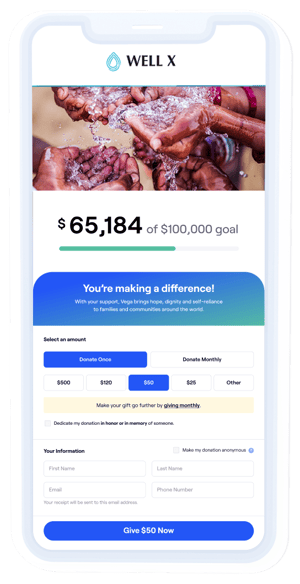 Designated funds, minus the friction.
Advanced functionality to give your donors confidence in their donation.
Designated funds are frequently used by nonprofits with good intention. However, they can also lead to unintended consequences, such as creating anxiety for the donor—which ultimately leads to poor conversion. We've got you covered. Our innovative, patent-pending approach to designated funds eliminates donor anxiety—we display a photo and description of the designation right next to the fund selection. Your donors can easily direct their gift, your conversion rates aren't negatively affected, and your funds get organized into the right buckets.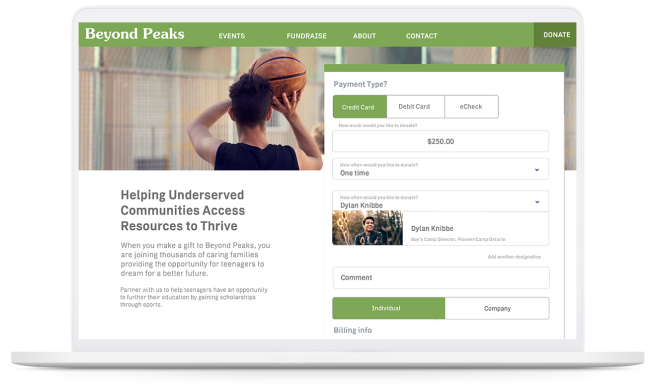 Ready, set, publish.
Dynamic, easy-to-use editor to get you up and running in minutes.
Need to set up a giving form, now? No problem. Easily create a mobile-friendly, secure, branded giving form and start accepting donations in minutes. And don't worry if you change your mind; simply make the adjustment, hit publish, and you're done—no IT help required.

Configurable form options include multiple gift types, recurring donation management—now with a fully customizable recurring gift prompt, multi-designation giving, campaign-specific donations, corporate gift matching, and even noncash donation processing. There are over 100 features and adjustments you can make in minutes to personalize the experience for your donors.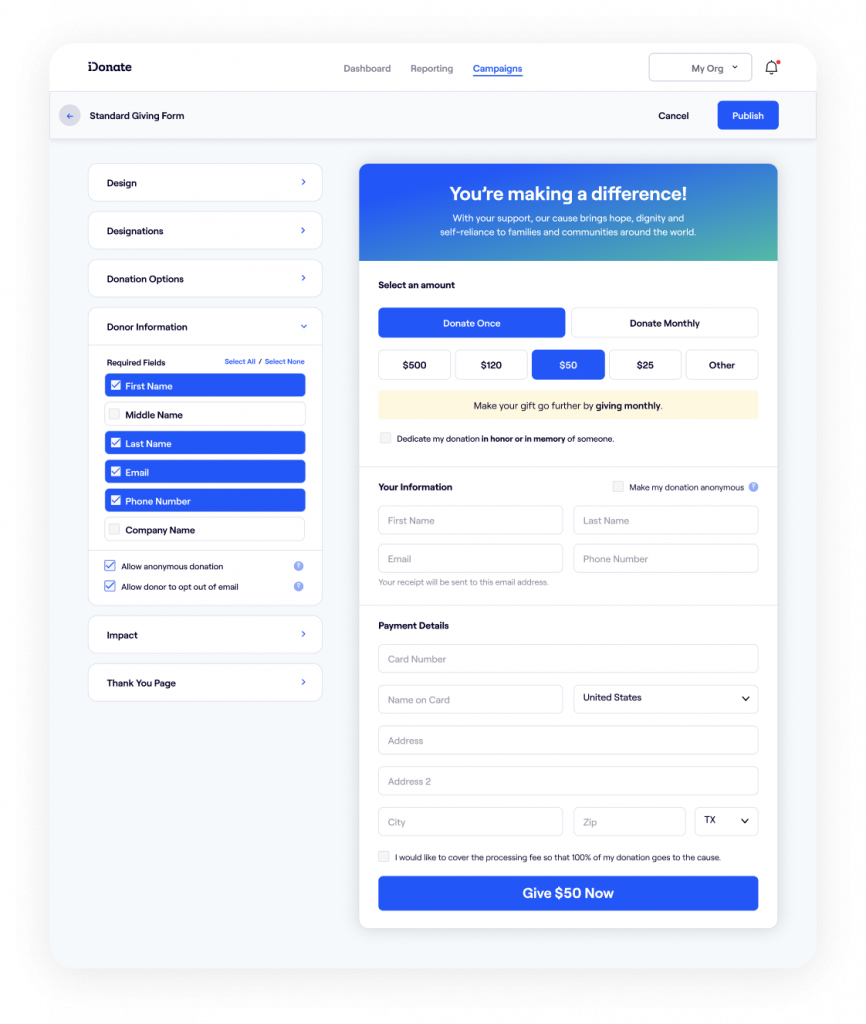 Give multiple gifts, with one easy checkout.
Modern solutions make check-ins a snap.
Selling tickets is only one part of an event; you also need to know who shows up. With a quick check-in scan from a printed ticket or mobile device, it's easy to keep track of attendance in real-time.


Delight your donors on any device.
No more compromise for mobile giving.
Today almost 80% of all emails are opened on a mobile phone. Your giving solution must not only be mobile ready, but work great on a mobile phone. Our giving forms were optimized for the mobile experience and look just like a true native app when you use them. And your donors don't miss out on any of the great features or the personalized experience you offer just because they open on a phone.
Show your donors you know who they are.
INDIVIDUALIZE THE GIVING EXPERIENCE.
iDonate's Contextual Giving is a way to make sure your request for a gift is individualized, personal, and appropriate for each donor based on what you know about their financial situation and giving history. An appropriate gift array for a billionaire is likely not the same as the gift array for a donor on a fixed income.
Empowered donors are happy donors.
NO MORE COMPROMISE FOR MOBILE GIVING.
Offer your donors the tools to manage their giving relationship with you through a personal donor portal. They can manage payment types, change recurring schedules, and review gift history all in one place. Self-service donor accounts give your team the opportunity to focus less on updating donor preferences and more time meeting your mission.
We attribute our growth in online donations to the fact that with iDonate we can easily run specific, personalized giving campaigns that our alumni can connect to.
Director of Information Services, Jefferson University
We've seen our donations double in the first two months of using iDonate.
Director of Development, OBU
In just two months we've already seen a 20% increase of first-time givers. We've seen tremendous results.
Executive Director, Midwest Food Bank