The Mission Is Clear And Never-Ending—To Feed And To Serve The Hungry
No matter the need, no matter the cause, no matter the person, the driving force behind Midwest Food Bank and its efforts to help end world hunger lies within the blessings they share. With millions across the United States and the world suffering from hunger and food insecurity, the action may be easier said than done. But Midwest Food Bank leans on its calling of service to fill a need across the world.
When it comes to anything monetary, for any nonprofit or charity, transparency is a major factor in staying true to its mission. As the largest faith-based food bank in the U.S., Midwest Food Bank brings in a large quantity of money and food from various sources. In 2020 alone, Midwest Food Bank brought in nearly $380 million in donated food, vehicles, equipment, and services—a 46% increase from 2019. So then, where does that money and food ultimately go?
Through the quantity of food donations from individual donors, grocery stores with excess food, and food manufacturers, combined with the team of volunteers nationwide, Midwest Food Bank can turn a $1 donation into $30 worth of food. That food is then sent to food pantries, soup kitchens, programs to feed children, and homeless shelters across the country and the world—all at no cost.
"That's the foundation of our mission," Chief Resource Officer Jada Hoerr said. "One of our differentiators is that we give all of our food away at no cost. We do everything that we do so that we can give it to the nonprofits and minimize their costs. They have limited funds as well and so we don't want them to dedicate those limited funds to food but let us provide that for them so they can serve out their programs."
History of Midwest Food Bank
This calling and mission began in 2003 when David Kieser and his family read about a need in their local newspaper to fill the shelves of food pantries in McLean County, Illinois.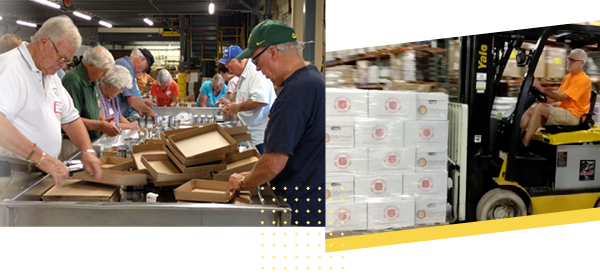 The Kieser family then turned the barn on their family farm into a distribution site for the food pantries that needed help. As their generosity turned into a success for their local community, the Kieser family still felt more could be done, and not just for those in the area they call home.
Soon after, Midwest Food Bank was born and the Kieser's began seeking the help of volunteers in Illinois. Continued growth saw Midwest Food Bank move into additional warehouses in central Illinois, Indiana, and further into the Northeast United States.
Midwest Food Bank increased their services by starting their disaster relief program in earnest in 2005 after Hurricane Katrina devastated New Orleans and the Southern region. In the years that followed, the food bank created additional programs, like Tender Mercies which produces nutritious food at just 20 cents per meal, and Hope Packs which provides food for a child to take home every weekend during the school year. Today, Midwest Food Bank operates 10 locations in the U.S., one in Kenya to serve the nations in East Africa, and multiple locations throughout Haiti.
Disaster Relief
Since the beginning of 2020, we have seen hurricanes, earthquakes, tornadoes, flooding, and widespread power outages ravage many communities around the world.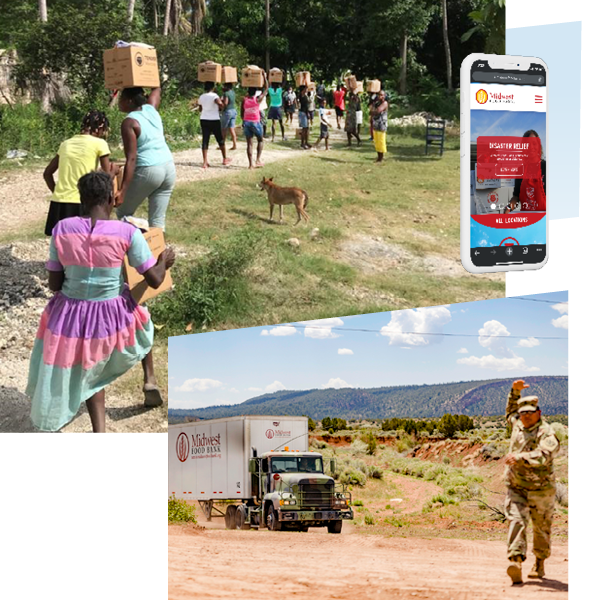 On top of everything else, the COVID-19 pandemic has seemingly been a nonstop battle. What was already a challenge before has now turned into a race against time. When the resources are gone, where do the people in need turn?
This is the gap that Midwest Food Bank aims to fill. In a normal year, the efficiency of Midwest Food Bank allows them to deliver 20-50 semitruck loads of food to locations that need it most. Through their volunteers and large fleet of trucks, Midwest Food Bank can deliver family food boxes to specified areas within 24 hours at the request of The Salvation Army and other partners. But with 2020 presenting all kinds of unprecedented challenges, Midwest Food Bank had to reorganize in order to safely meet the demand—which was now greater than ever.
Seeing the need for help, volunteers continued to show up year-round. Nearly 18,000 individuals volunteered at various locations throughout the year, totaling over 300,000 hours of service. In fact, there were 450 volunteers for every one full-time employee. In turn, Midwest Food Bank was able to send 179 truckloads of their family food boxes to locations across the country.
Even internationally, Midwest Food Bank saw people step up to assist. With the recent disasters in Haiti, donors from as far as Portugal and Australia used Midwest Food Bank's online presence to give. This includes food donations, as the food bank's online giving form has been a driver for those wishing to donate food.
"As soon as the recent earthquake happened in Haiti, because of our online presence on our website and through an easy form to give, we were at the right place doing the things that people were seeking to support," Hoerr said. "We had truly a global reach to support the people in Haiti."
Building Relationships
While the immediacy of giving during a disaster is always needed, a constant push for a nonprofit like Midwest Food Bank is to keep donors and volunteers coming back. An important way to do this is to establish strong relationships with those who choose Midwest Food Bank as their nonprofit of choice.
In 2020, Midwest Food Bank saw a retention rate of 54% for those who gave in 2019, well above the industry standard of 40%. There is strong hope that percentage can increase for 2021, as 20% of Midwest Food Bank's gifts come during their end-of-year giving campaigns. But how does Midwest Food Bank keep those donors engaged and ultimately start building strong relationships?
They want the donor to feel like they are a part of the family, either through personal emails or hand-written cards as a thank you, or even in the online giving form where donors are able to select whether they want to be a recurring giver.
"It was a new feature of the platform in 2020 so we incorporated that and found that we have had incredible success for growing our recurring giving," Hoerr said. "It's a simple and formal conscientious ask and is something that would be important for year-end giving."
It's crucial for Midwest Food Bank to see through this relationship-building in all aspects of their nonprofit business. While their core focus may be on ending world hunger, their message is one of faith and support, something that aligns with iDonate and the impact we hope to share.
"It's very clear that iDonate is consistent with the Midwest Food Bank culture," Hoerr said. "We are a growing organization and as iDonate continues to have enhancements and new features, we want to be on the leading edge and taking advantage of those benefits."
Digital Giving – Today and in the Future
In the digital age of fundraising, donors are looking for a convenient way to give. Physical checks and phone calls are not enough. Donors may also be looking to give other assets like vehicles or stocks. For a nonprofit like Midwest Food Bank that is able to turn almost every dollar into something more, having an online platform that can handle both monetary and nonmonetary donations is important.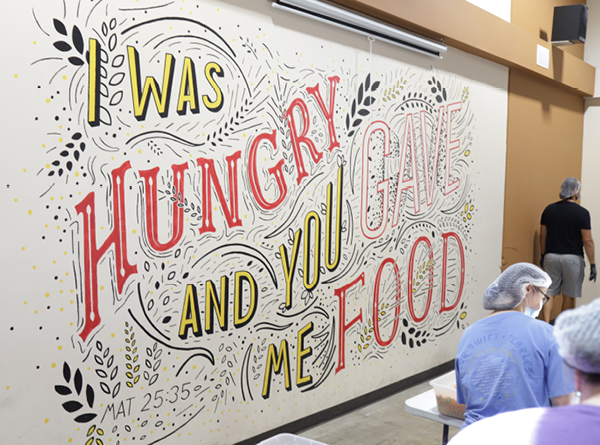 Using iDonate's online giving platform, Midwest Food Bank has seen its greatest success. In 2018, 39% of the food bank's total donations came from credit card transactions. That increased to 46% in 2019, and by 2020, that number rose to 59%. Midwest Food Bank has already seen that amount matched in 2021, and expects it to grow even more toward the end of the year.
"Having an online presence and an online donation form embedded into our website made it possible for us to receive the donations easily," Hoerr said. "We have to keep that donor engaged and so once you have them exposed to an easy process you have to keep it easy. We still receive an ample number of checks, but the number of online donors is increasing."
When those donations come in, being able to quickly utilize those funds for the services that need it most is the next step. Even before 2020, Midwest Food Bank and its programs were already in place and growing to serve widespread communities that needed help. As the pandemic set in, the services Midwest Food Bank provides, and an increased emphasis on digital giving, became focal points.
"We have a very faithful base of traditional check writers and so we never want to minimize that base, but as we gain new donors we can imagine that there are going to be many who want that convenience of online giving," Hoerr said. "As Midwest Food Bank grows we definitely anticipate that digital giving will be a part of that growth."
All the efforts Midwest Food Bank carries out go back to building relationships with their donors. In their interactions with their donors, whether it be online through a thank you email, a printed newsletter, or while they are volunteering, Midwest Food Bank is building a reputation as a leading nonprofit in the industry. This is evidenced by Charity Navigator, an independent charity evaluator that rates the effectiveness and transparency of nonprofits across the country. They give Midwest Food Bank their highest rating of 4-stars, ranking them as one of the top nonprofits in the nation. This positive online presence will allow Midwest Food Bank to continue sharing its blessings with those in need.
"When a natural disaster strikes, people want to help," Hoerr said. "When they find out what Midwest Food Bank is doing, we have iDonate to provide an easy way for them to be a part of our relief efforts."