What if I told you, your nonprofit could raise 30% more each year with Donor-First Fundraising?
Donor-First Nonprofits Share Two Core Beliefs
1. Donor-First organizations prioritize the donor's giving experience above all else.
2. They invest in modern technology to attract, convert, and retain more long-term, recurring donor support.
"Your embedded platform makes a seamless experience for donors and employees. It's frictionless. That's the big selling point."
- Phil Sineath, CO Serve
"You helped us streamline. Now customers can easily do more self-serve donations, more efficiently."
- Peg Jones, North American Mission Board (NAMB)
And They Fundraise with a Superior Set of
Fundraising Solutions that Connect

into Your Donors' Entire Journey
When it comes to Donor-First fundraising, you need a digital platform that makes it simple to test, configure, and adapt your giving experience to meet the needs and expectations of your donors.
We've partnered with NextAfter, the recognized leader in digital-first fundraising, to bring the modern fundraiser the acquisition, personalization, optimization, and amplification tools they need.
We've built in a robust set of Donor-First Solutions:

Point & Click A/B Testing
Pre-optimized Template Library
Personalized Gift Array Labels
Corporate Gift Matching

Recurring Gift Prompt
Advanced Donor Acquisition
Giving Impact Equation
Contextual Giving and more!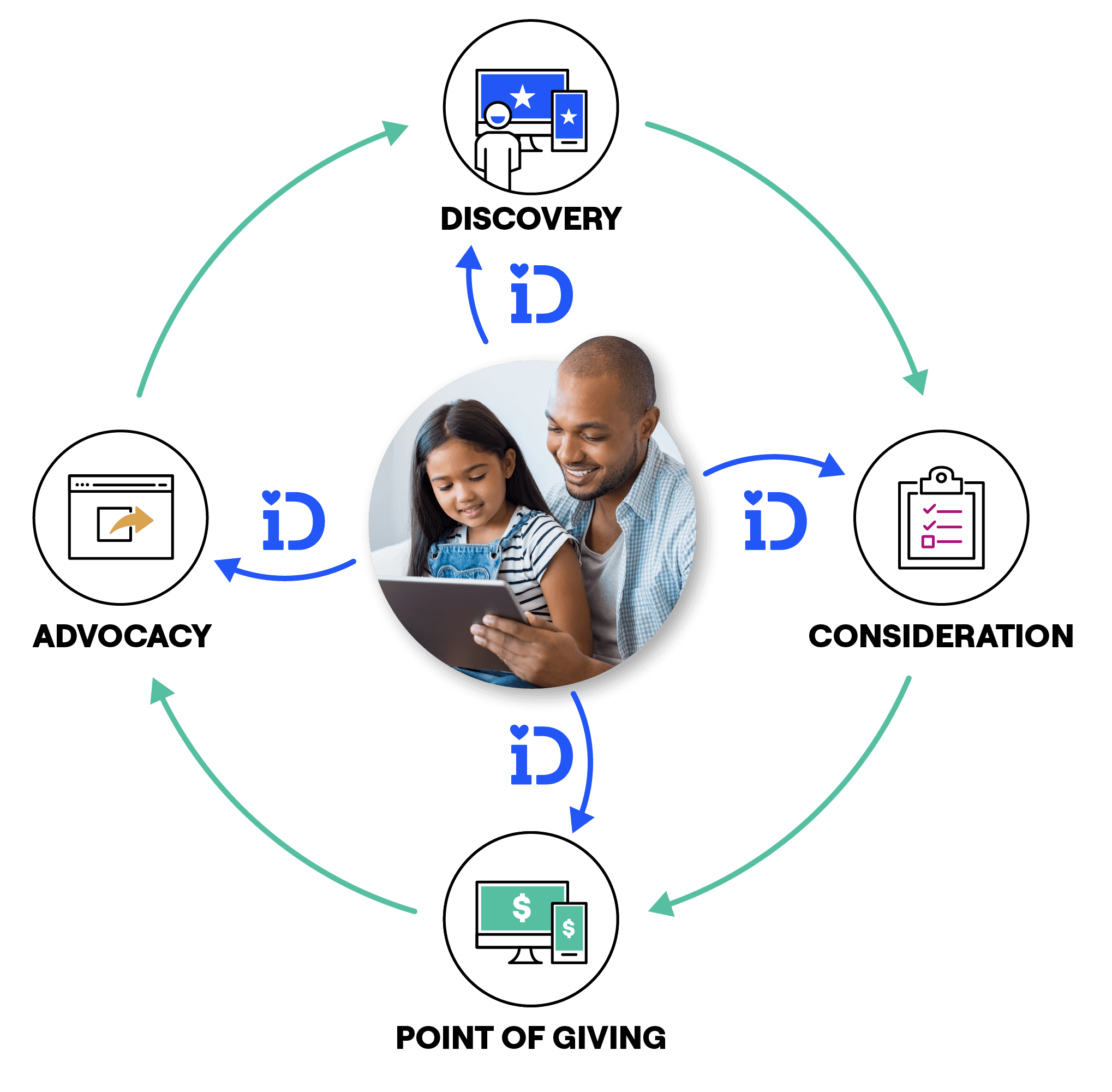 iDonate is Built for Today's Nonprofit Fundraising Market




iDonate 2.0 solves a growing problem in the nonprofit community where organizations struggle to accelerate their digital transformation and grow new sources of revenue. A key roadblock that many nonprofits face is an ability to attract and retain new donors such as millennials when they are stuck using systems that only support traditional fundraising techniques and static campaign-driven asks.
With digital fundraising expected to grow in the next five years at rates similar to ecommerce (from 10% to 25% of an overall $450 billion in giving), nonprofit leaders are actively seeking new platforms that open up digital donation channels to web-savvy, socially-connected donors who give at the point of inspiration. iDonate 2.0 is designed from the ground up to serve this need.
They are Guided by a Different Set of
D.O.N.O.R.

First Rules
D

igital-First
Invest in modern technology that seamlessly helps them to create digital-first donor giving experiences.
O

ptimize
Have an experimental mindset & optimize digital fundraising to reduce friction & increase donor growth.
N

etworks
Engage donors within social media and community networks to meet donors where they prefer to interact.
O

ptions
Personalize giving to connect with your donors and meet their modern expectations & unique giving preferences.
R

etention
Engineer and automate your digital fundraising system to generate increased long-term, recurring donor support.
Today's Challenges Within the Nonprofit Industry:
One-third of nonprofit professionals are working exclusively with inherited (and often out-of-date) digital giving technology & tools.
Source: GiveSmart Study - 2022
95% of nonprofits have enough friction in their digital giving experience to significantly hinder their fundraising success.
Source: Donation Page Friction Study - NextAfter Institute
Nearly half of Gen Zers and over a third of Millennials donated because they saw something on social networks like Facebook, Instagram, TikTok, etc.
Source: Americans Donated to Charity - LendingTree 2021
55% of donors would give more if the ask was personalized, yet nearly half of nonprofits use the same suggested gift array strategy for all donors.
Source: The Global Online Fundraising Digital Scorecard - NextAfter Institute
Less than 20% of nonprofits have any language on their giving pages that encourages (let alone automates) retention through ongoing donations.
Source: The Global Online Fundraising Digital Scorecard - NextAfter Institute