Hi there!
Meet the Digital Fundraising Platform you've been waiting for.

Let me introduce you to our advanced fundraising solution powered by "donor-first optimization;" enabling nonprofits to reach, convert, and retain more of today's donors.
A Platform Built to Optimize
Our newly updated Digital Fundraising Platform provides you, the fundraiser, with a set of capabilities and features that are proven improve overall donor acquisition, conversion and retention rates.
Developed in conjunction with recognized industry leader in the digital-first fundraising space, NextAfter, our patented "Donor-First Optimization" techniques which are built right into the platform enable point-and-click A/B testing, landing page optimization, automated recurring gift prompts, and so much more.
Gone are the days of having a bunch of disjointed tools, not synced together, nor intelligently integrated into your backend systems. Now, all of your fundraising systems can be seamlessly integrated into a robust digital platform, ensuring your fundraising asks are presented clearly, personalized to donor preferences, and optimized for conversion.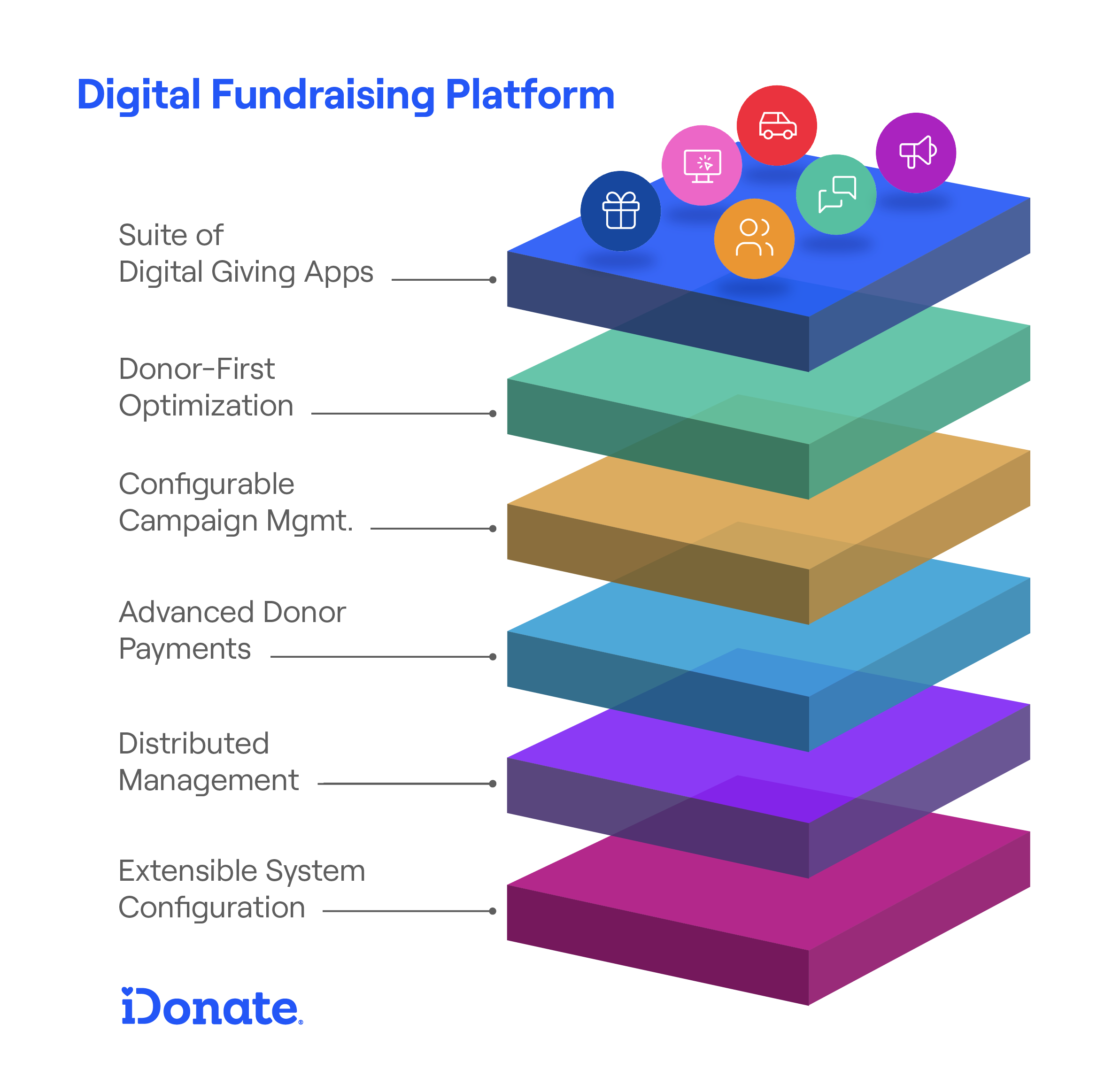 "Your embedded platform makes a seamless experience for donors and employees. It's frictionless. That's the big selling point."
- Phil Sineath, CO Serve
"You helped us streamline. Now customers can easily do more self-serve donations, more efficiently."
- Peg Jones, North American Mission Board (NAMB)
iDonate is Built for Today's Market




iDonate 2.0 solves a growing problem in the nonprofit community where organizations struggle to accelerate their digital transformation and grow new sources of revenue. A key roadblock that many nonprofits' face is an ability to attract and retain new donors such as millennials when they are stuck using systems that only support traditional fundraising techniques and static campaign-driven asks.
With digital fundraising expected to grow in the next five years at rates similar to ecommerce (from 10% to 25% of an overall $450 billion in giving), nonprofit leaders are actively seeking new platforms that open up digital donation channels to web-savvy, socially-connected donors who give at the point of inspiration. iDonate 2.0 is designed from the ground up to serve this need.

I've had the pleasure of working closely with members of iDonate's management team over the past several years to deliver their solutions to our the Jewish Federation community. iDonate never failed to demonstrate their commitment to ensure that their platform and integrations met the needs of the Federations. I'm excited to work closely with the iDonate team to provide resources for all federations.
Steve Cupertino
Former CIO of Jewish Federations of North America
We attribute our growth in online donations to the fact that with iDonate we can easily run specific, personalized giving campaigns that our alumni can connect to.
Director of Information Services, Jefferson University
We've seen our donations double in the first two months of using iDonate.
Director of Development, OBU
In just two months we've already seen a 20% increase of first-time givers. We've seen tremendous results.
Executive Director, Midwest Food Bank